photo by Sally Sum



Allie Rowbottom's critically acclaimed debut memoir, Jell-O Girls (Little Brown and Company) was a 2018 NYT Editor's Choice Selection, Amazon Best Book of the Month, Indie Next Pick, and Real Simple Best Book of the year. Her debut novel, Aesthetica, is forthcoming from Soho Press in November of 2022.

Allie's essays and short fiction can be found in Vanity Fair, Salon, Lit Hub, No Tokens, NY Tyrant, The Drunken Canal, Alta Journal, Bitch and elsewhere. She holds a PhD in literature and creative writing from the University of Houston and an MFA from the California Institute of the Arts and has taught fiction and non-fiction at the University of Houston, CalArts, and Catapult.

She lives in Los Angeles with her husband, the writer Jon Lindsey.
Agent—Erin Harris,
eharris@foliolit.com
Publicity—Alexa Wejko,
awejko@sohopress.com
Film & TV–Ali Lefkowitz,
ali@anonymouscontent.com
---
Aesthetica: A Novel, forthcoming from Soho Press, Fall 2022

Last of the Long Hot Days, Joyland, September 2022

He Dreams About the Bunny Ranch, Alta Journal, January 2022

Even Before Success Pussy was Number One, Forever Magazine, November 2021

Interview: Palm Springs Eternal: Allie Rowbottom Interviews Jon Lindsey, Hobart, June 2021

Roundtable: Coat Full of Pockets: A Story Collection Roundtable, The Rumpus, June 2021

For the Roses, Horse Girls: Recovering, Aspiring, and Devoted Riders Redefine the Iconic Bond (Anthology), Harper Collins, August 2021

Three Poems, New York Tyrant, February 2021

Interview: No Conversation@DudesInTheDMs Is Making the Internet Safer for Women, Bitch Magazine, February 2021

Aura-Lift ™, Hobart, October 2020

Two Against One, Post Road, October 2020

---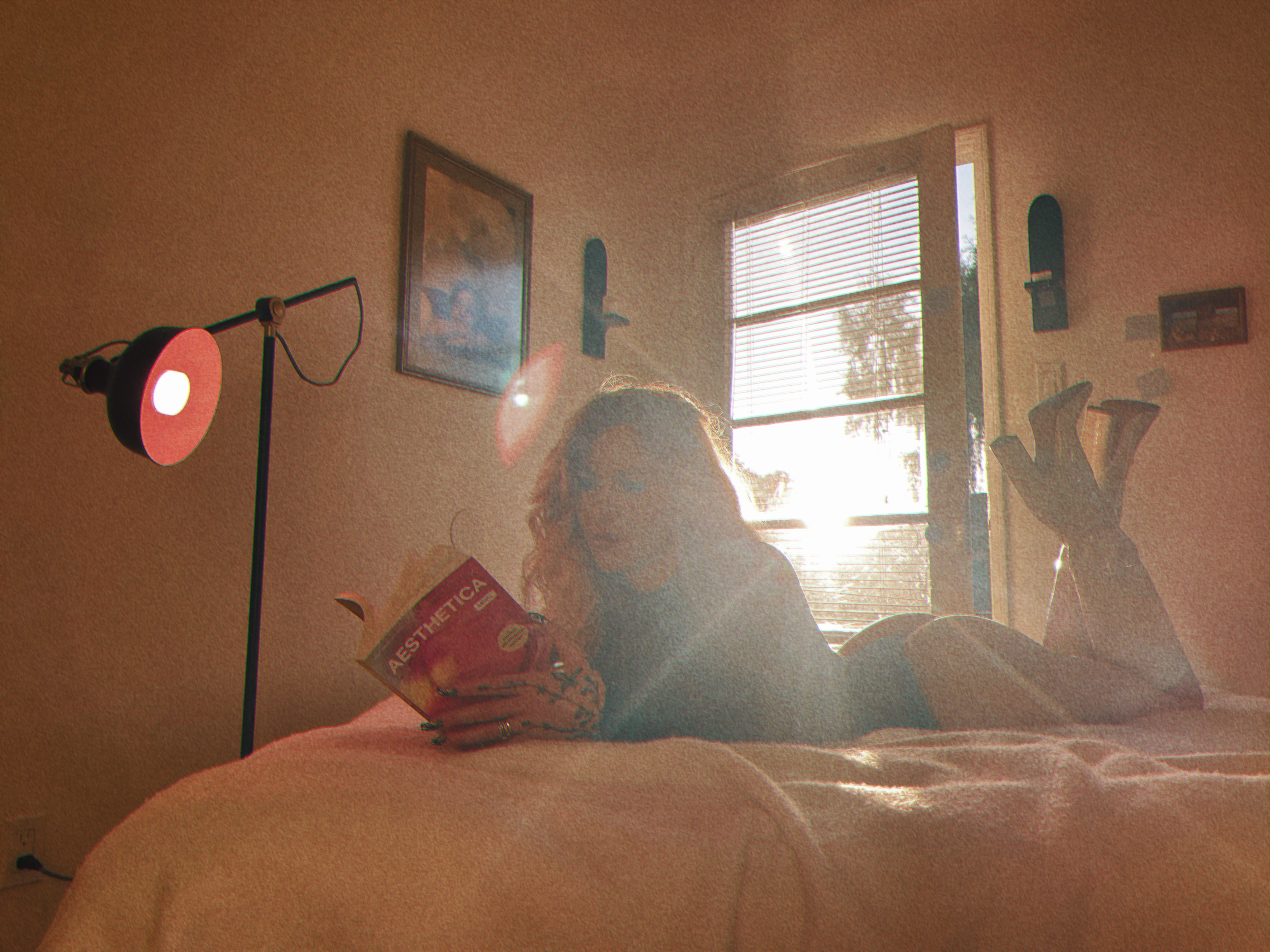 ✨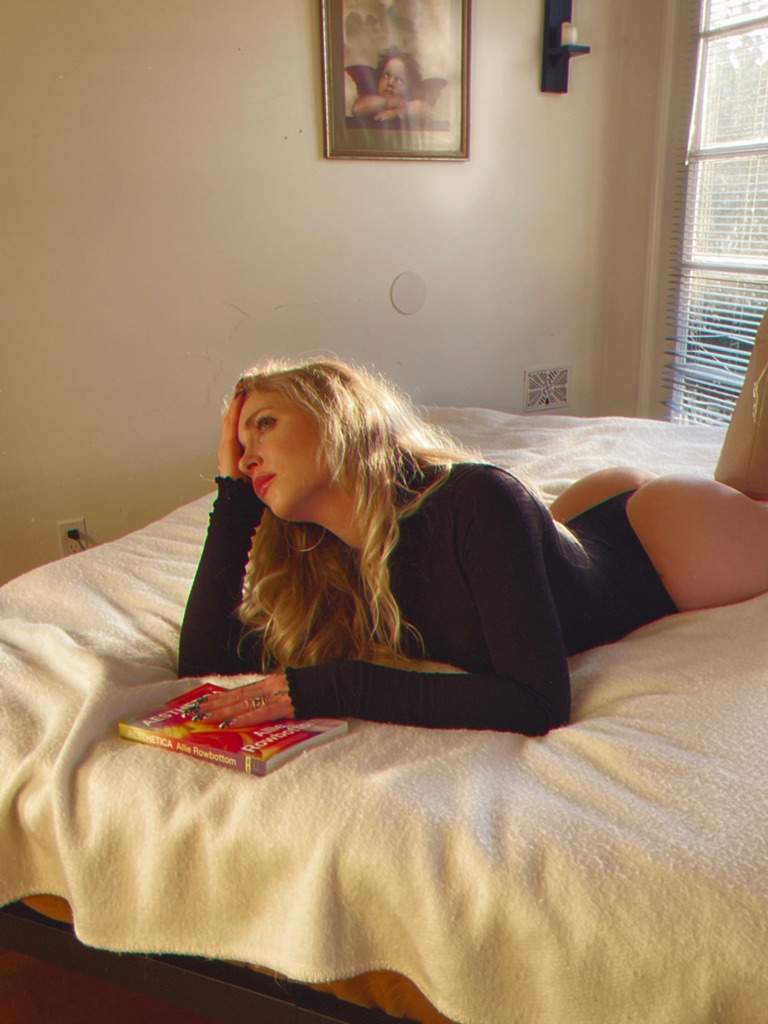 photo by Sally Sum
✨

---

Interview in Sex Magazine, 2022

Selected Prose Podcast, 2022

Allie Rowbottom on Social Media, Plastic Surgery and Being Objectified, Polyester Zine, 2021

Currents: An Interview Series with Brian Alan Ellis, Vol. 1 Brooklyn, 2021

1StoryPodcast, November 2020

The Creative Non-Fiction Podcast, The Page As a Safe Place, July 2019

In Jell-O Girls, a Dark Family History Behind a Candy Colored Dessert

,

The New York Times, 2018

How Patriarchy Imprinted Itself on the Family Who Created Jell-O, The New York Times Book Review, 2018


"Rowbottom delivers a complex and deeply engaging portrayal of a woman looking back on her career as an Instagram model. The narrative fluidly alternates between the near future, when Anna is in her mid-30s, and her rise to influencer status in 2017 at 19 . . . it all builds to a scorching commentary on society's blindness toward female pain. Fans of Mary Gaitskill's work and Black Mirror will flock to this pitch-perfect novel."
—Publishers Weekly, Starred Review
A B O U T
AESTHETICA
---
In a debut novel as radiant as it is caustic, a former influencer confronts her past—and takes inventory of the damages that underpin the surface-glamour of social media.

At 19, she was an Instagram celebrity. Now, at 35, she works behind the cosmetic counter at the "black and white store," peddling anti-aging products to women seeking physical and spiritual transformation. She too is seeking rebirth. She's about to undergo the high-risk, elective surgery Aesthetica™, a procedure that will reverse all her past plastic surgery procedures, returning her, she hopes, to a truer self. Provided she survives the knife.

But on the eve of the surgery, her traumatic past resurfaces when she is asked to participate in the public takedown of her former manager/boyfriend, who has rebranded himself as a paragon of "woke" masculinity in the post-#MeToo world. With the hours ticking down to her surgery, she must confront the ugly truth about her experiences on and off the Instagram grid.

Propulsive, dark, and moving, Aesthetica is a Veronica for the age of "Instagram face," delivering a fresh, nuanced examination of feminism, #MeToo, and mother-daughter relationships, all while confronting our collective addiction to followers, filters, and faux realities.

"AESTHETICA is the best book about influencers I've ever read and the only book about the internet that doesn't make the author sound like a thousand year old vampire."

—Caroline Calloway
"Allie's writing is a light to follow in the dark, illuminating those human realities we often wish would stay hidden, but deep down, if we're open enough, are grateful to have seen."
—Dantiel W. Moniz, author of Milk Blood Heat
Photo by Sally Sum
"In her dark, moving, fascinating, and healing first novel, Allie Rowbottom compassionately and lucidly examines one of the more painful, disturbing, stranger, and newest subcultures that our misogynist dominator society has produced."
—Tao Lin, author of Leave Society

"A challenging, compassionate novel about the aftermath of exploitation and packaged youth . . . While structurally the novel is conventional, tracking a naïve young woman's entrapment in a sordid world and her reawakening as an adult, Rowbottom's specificity about one moment in internet culture and the contradictory ideologies about autonomy and desire young women must parse make it worthwhile reading."

—Kirkus Reviews
In 1899, Orator Francis Woodward bought the patent to Jell-O from its inventor for $450. The sale would turn out to be one of the most profitable business deals in American history, and generations of his family enjoyed immense privilege - but they were also haunted by suicides, cancer, alcoholism, and mysterious ailments.

Allie Rowbottom's mother, Mary, niece of Jell-O matriarch Edith Woodward, grew up in the shadow of this privilege. When more than 100 years after the Jell-O deal was struck, Mary was diagnosed with cancer, the same disease that had claimed her own mother's life, she became determined to combat what she had come to consider the "Jell-O curse" and her looming mortality. Mary began obsessively researching her family's past, determined to understand the origins of her illness and the impact on her life of Jell-O and the traditional American values the company championed. Before she died in 2015, Mary began to send Allie boxes of her research and notes, in the hope that her daughter might write what she could not. JELL-O GIRLS is the liberation of that story.


An examination of the dark side of an iconic American product and a portrait of the women who lived in the shadow of its fractured fortune, JELL-O GIRLS is a family history, a feminist history, and a story of motherhood, love and loss. Throughout, Rowbottom considers the roots of trauma not only in her own family, but in the American psyche as well, ultimately weaving a story that is deeply personal, as well as deeply connected to the collective female experience
A New York Times Editors' Choice
One of People Magazine's Best Books of Summer
An Amazon Best Book of the Month
An Indie Next Pick
A Real Simple Best Book of 2018
AVAILABLE NOW IN PAPERBACK